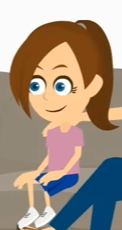 Ashley Andrews is the daughter of Jerry and Kate, Jessica 's little sister, Nathaniel's older sister, the granddaughter of Denise and Albert MacAllister, the niece of Becky MacAllister, Mark MacAllister, and Teresa, and the cousin of Roxanne and Jack MacAllister . She is voiced by Ivy. She is 5 years old,however,Jessica bullies her a lot in Devario Lopez's Videos,and other fans are copying Ashley and Jessica's Show "Big Mean Sister"But the people are different in the new ones rather than the original. It took a while until she said her first word. (she was 1 year and 9 months old then) She still doesn't talk a lot tho. She also is pretty anarchistic and stubborn. As a toddler she often ran away when her parents wanted her to take a bath or to sit on the potty so they had to force her. Her attitude changed slightly when Nathaniel was born. From then on she turned more into the Big Sister type: more social, not running away when she had to take a bath and using the potty/toilet regulary. 
Ashley Andrews


Biographical Information
Gender
Female
Born
February 26, 2013 (age 5)
Residence
Tindale Valley, California
Family Information
Parents
Jerry Andrews (Father)

Kate Andrews (Mother)

Sibling(s)
Jessica Andrews (Big Sister)

Nathaniel Andrews (Younger Brother)

Other(s)
Eric Andrews (2012-2016) and Brian Andrews (2016-now)
Professional Information
Character Information
First Appearance
Mean Big Sister Scares The Baby' (January 2, 2014)
Seasons
3
Portrayed By
Herself

"Ivy" (Voice)

Created By
Devario Lopez
Informations
Edit
When she started to crawl: August 2013
When she started to walk: January 2014
When she said her first word: November 2014
When she sat on the potty for the first time: unknown, somewhere between August 2014 and March 2015
When she finished potty training: unknown, somewhere between October 2015 and March 2016
She Attends Myrtle Creek Elementary School, where she is currently in Kindergarten.